Key takeaways from Position Act 2023
Position Green hosted its annual user event on 31 May this year. Our customer community of sustainability Pioneers came together to deep dive into ESG trends, explore best practices for sustainable business and navigate the path to ESG success. Discover some of the useful insights and takeaways from Position Act 2023.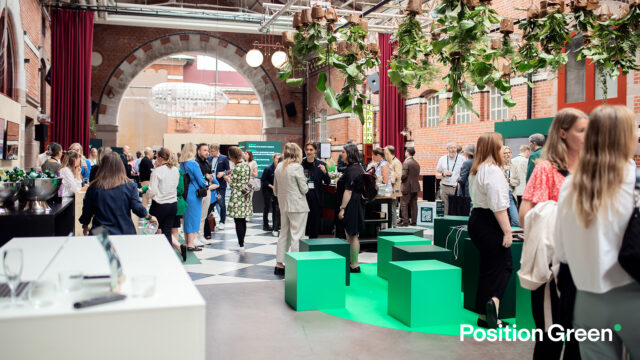 Sustainability is measured in the steps we take together
Sustainability professionals from a range of industries gathered in Malmö, Sweden this past May to explore how collaboration can accelerate impact, fuel growth and inspire a new wave of sustainable business. A full day of dynamic discussions and co-creation sessions provided unique industry insights and served as a springboard for future collaborations. Here are some of the key takeaways from the event.
1. See ESG regulation as an opportunity
Embrace sustainability as a moving target – raise the floor instead of the ceiling to accelerate capabilities and develop a more resilient business. Upcoming regulation is creating a common language and approach to working towards shared sustainability goals. It can guide you in setting clear targets to help measure your progress toward sustainability, demonstrate commitment to sustainable practices and prioritise your investments. 
Many talks during Position Act in some way touched on CSRD/ESRS – both as a resource-intensive challenge and as an opportunity to focus on new sustainability topics and engage with new stakeholders. It's recommended to start with a double materiality assessment to define the scope and content of your upcoming reporting and data collection. When you know your scope, you have a good starting point to analyse your existing gaps and define your roadmap ahead.
2. Establish a baseline and get started with your Scope 3 data gathering
Aim to improve your data quality over time and see it as a step-by-step process. Several discussions highlighted the complex nature of Scope 3 data collection, with emphasis on the insufficient quality of data from suppliers. The most effective strategy was clear – set a good methodology, identify data gaps, and start somewhere. 
Based on the data available, begin with either an activity-based or spend-based approach. This gives you a good feel for where your biggest Scope 3 emissions lie as well as which products and services drive your impact. Implement a data collection and reporting system that allows you to automate, prioritise your supplier collaborations and access relevant emission factors.
3. To improve your social impact, start by looking inwards
To improve your social impact, be sure to conduct human rights due diligence within your own operations and supply chain to ensure that your human rights expectations are met, regardless of geographical location. To do this, you should gain a concrete understanding of your own operations and your supply chain's human rights impacts and then collaborate with and communicate expectations throughout your supply chain.
When it comes to your supply chain, it's important to not only communicate why specific data needs to be provided, but also the correct format to ensure quality. A human touch is key when incorporating social impact into your business strategy. Talk to suppliers, help them, and build relationships that will reinforce your company values.
4. Driving sustainability transformation requires tech innovation
The evolving complexities of ESG data management call for solutions that combine cutting-edge tech and human expertise. General purpose software is no longer a viable option. The shifting regulatory demands and market expectations underline the importance of connecting strategy and targets with data management and working with sustainability. 
A best practice setup for major ESG frameworks and standards will allow you to streamline the accurate measurement and reporting of data while benchmarking against industry peers. Position Green is also enhancing its suite of ESG software products by leveraging the benefits of AI, which provides users with context-aware insights into their own sustainability work.
5. Collaboration accelerates impact
Sustainability is not a matter of competition; it's about moving the industry forward together. Not only is this the driving concept behind Position Act and the relaunch of the PG Pioneers network, it's also a success factor in many of the sustainability initiatives of the attendees – from developing a coordinated approach that ensures sustainable suppliers, to jointly innovating new industry solutions. 
Being transparent in the methods you use, the risks you have and how you aim to solve them is key to aligning goals and creating synergies between the sustainability work of different stakeholders. When you work with sustainability, you're never alone in your aspirations. Widen your perspective across industries and sectors and explore those unlikely collaborations that help accelerate your own sustainability journey and maximise impact.
Want to know more? Please reach out to our experts and we will help you navigate within the sustainability landscape.