European Sustainability Reporting Standards (ESRS)
Ensure the data integrity, transparency and structures needed to prepare for and comply with the new ESRS and CSRD requirements.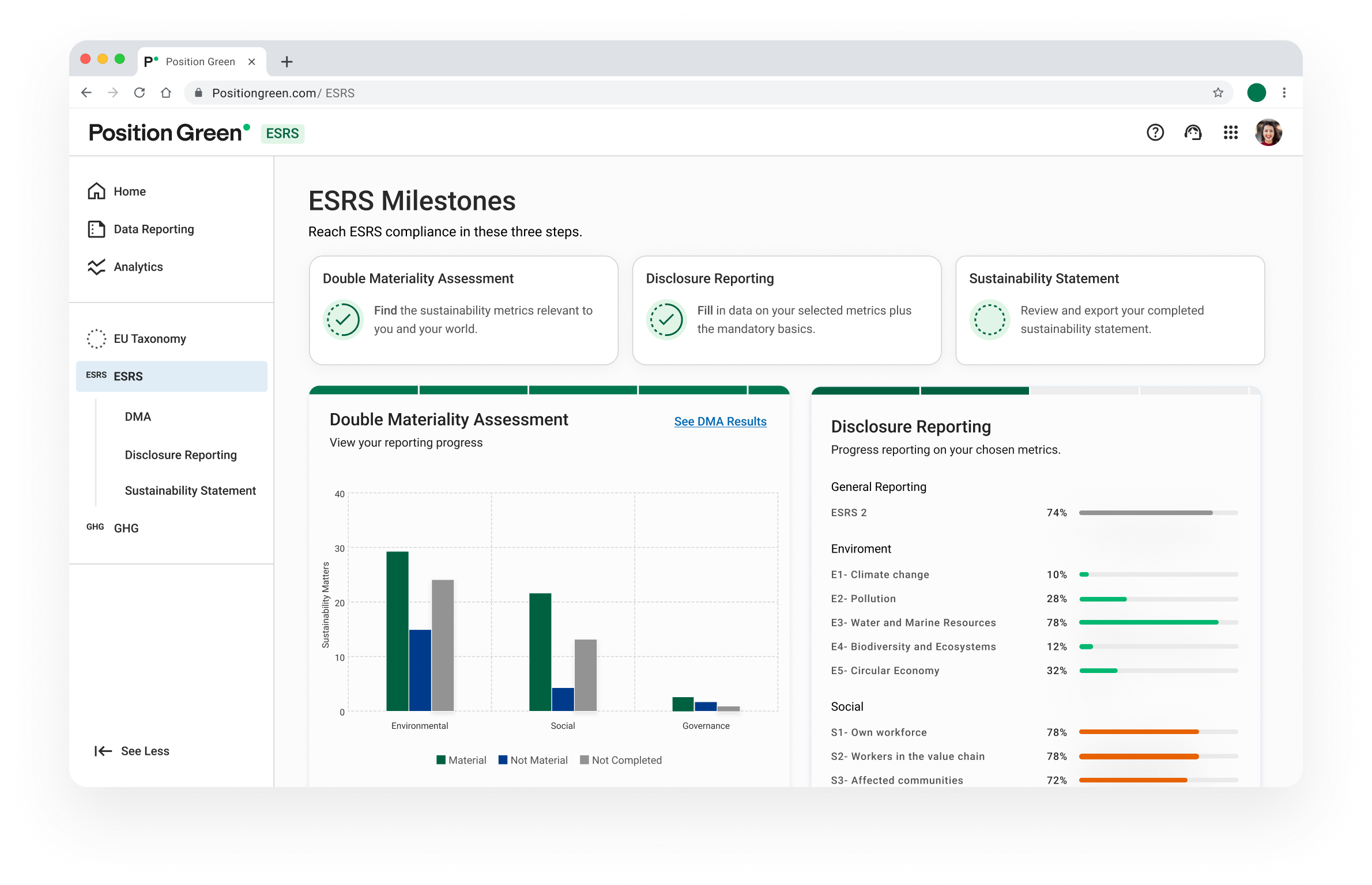 All you need to reach ESRS compliance in one software solution
Streamline your ESRS reporting with our easily accessible software solution. Leverage human expertise translated into features and built-in best practices to make sure you stay one step ahead.
Double materiality assessment management
Gather all your ESG reporting in one place
Assured disclosure templates
Sustainability statement in machine and human readable format
Implement our full-cycle ESRS Solution
Position Green's complete ESRS Solution helps you understand, prepare for and deliver on the complex requirements of the new European Sustainability Reporting Standards (ESRS) and Corporate Sustainability Reporting Directive (CSRD). Take steps to make your data collection and reporting structures ESRS and CSRD-compliant, achieve the transparency required for limited assurance, and drive your sustainability agenda with actionable insights.
Simplify ESRS reporting with custom ESG software

Efficiently collect, analyse and report all sustainability data in line with the ESRS requirements in our tailored platform.

Gain a complete overview of your entire reporting journey – from the initial double materiality assessment to the actual reporting of the mandatory and material disclosures.

Track and follow-up on your targets and progress.

Streamline the process for external assurance providers to provide statutory limited assurance for the ESRS report.
Ensure compliance with expert guidance

Conduct a double materiality assessment with support from our experts to define what your organisation should report on going forward.

Get expert help with a gap analysis for a good understanding of how well your current reporting aligns with the coming ESRS requirements and what is needed to close the gaps. 
Promote ESRS training for a knowledgeable workforce

Train your organisation with a curated e-learning course on the CSRD and ESRS, covering topics such as compliance and disclosure requirements and reporting areas and practicalities.

Engage in instructor-led training to provide you with everything you need to know about reporting in line with the ESRS requirements.
Want to know how we can help you get started with the European Sustainability Reporting Standards (ESRS)?
Position Green works with companies worldwide to help navigate an evolving regulatory landscape, accelerate sustainability performance and sharpen your competitive edge. Find out how Position Green can help fuel your sustainability transformation.
Please share your contact details and we will be in touch shortly.
What are the ESRS?
The EU's new European Sustainability Reporting Standards (ESRS) are a central element of the Corporate Sustainability Reporting Directive (CSRD) and entail major changes that create a new paradigm for sustainability reporting. Reporting according to the ESRS is mandatory for all companies covered by the CSRD and must be incorporated in the management report. The reporting standards will also require companies to pay even more attention to traceability and transparency throughout the reporting process due to the limited assurance requirement.
The ESRS have a broader view of materiality than, for example, GRI Standards, and they are based on double materiality from an impact and financial perspective. The double materiality assessment will help companies to understand their impact, risks and opportunities spanning across their upstream and downstream value chains, arising from business relationships, geographical locations and more.
Who is affected by the ESRS?
All companies covered by the CSRD (around 50 000 companies) will sooner or later be required to align their sustainability reports according to the ESRS. The CSRD covers all listed companies on regulated markets within the EU, including small and medium-sized enterprises but excluding micro-enterprises. It also applies to all large (listed or not) companies if they meet at least two of the following three criteria: 
Balance sheet total of more than EUR 20m

Net turnover of more than EUR 40m

The average number of employees during the financial year exceeding 250
Additionally, the ESRS apply to non-EU undertakings with turnover above EUR 150 million in the EU if they have at least one subsidiary or branch in the EU exceeding the above thresholds.
Timeline for the ESRS implementation
There will be a gradual implementation of the ESRS, depending on the size of the company:
June 2023: EU Commission to adopt ESRS as delegated acts

1 January 2024: Undertakings already subject to the Non-Financial Reporting Directive (reporting in 2025 on 2024 data)

1 January 2025: Large undertakings not currently subject to the Non-Financial Reporting Directive (reporting in 2026 on 2025 data)

1 January 2026: Listed small and medium-sized enterprises, (reporting in 2027 on 2026 data). 

1 January 2028: Non-EU companies covered by CSRD, (reporting in 2029 on 2028 data)
A guide to the CSRD and ESRS
What are the CSRD and ESRS, which reporting areas and key requirements apply, and how can your company get started and ensure compliance? In this guide, we will walk you through all the essential information relating to the CSRD and ESRS.