Key recommendations for successful data gathering for your ESRS reporting
The introduction of the Corporate Sustainability Reporting Directive (CSRD) holds promise of a more cohesive reporting landscape, and covers an impressive amount of disclosure possibilities. But how do you get started on gathering data in line with the intertwined European Sustainability Reporting Standards (ESRS)? In this article, we offer practical advice.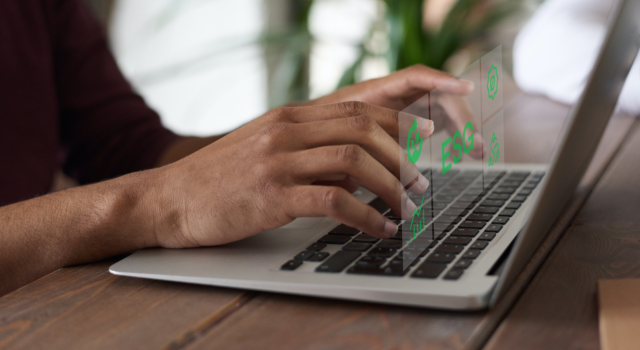 The double materiality assessment determines what you need to report on
The double materiality assessment is the key to knowing what you need to report on. It allows you to find out where your organisation has its largest positive and negative, as well as actual and potential impact throughout the value chain, and how these matters translate into business opportunities and risks. Allocate time to familiarise yourself with the topical standards and disclosures to learn how they fit into your organisation. It's not always as intuitive as you might think, so taking the time to properly learn about them more in detail will be valuable. It's beneficial to have a software in place that supports in achieving traceability and transparency of the double materiality assessment. 
EU's adopted ESRS draft includes fewer mandatory disclosures
ESRS 2 is the only standard that is mandatory for all organisations to report on. ESRS 1 explains how the double materiality assessment is to be conducted and reported to align with ESRS 2 and the material topical standards. A recommendation is to have a look at Appendix A, where you can find a list including the specifics of what you need to report on. 
It's important to acknowledge that the ESRS does not cover everything that might be material to your organisation. There are cases where you will need to add your own topics. This is encouraged and recognised in the ESRS. Another aspect to highlight is that while a topical standard might be material to your organisation, it's not given that all disclosures within that topical standard will apply to your business. For disclosures to be applicable to your organisation, they need to be relevant either from an impact materiality or financial materiality perspective, or both. Setting a threshold that defines when a disclosure is considered material or not is crucial to determine the results. This can either be defined internally or by a third party, such as a software provider or advisor.
Use a software to simplify data gathering 
ESRS is extensive and complex. Establishing a structured and systematic way of gathering the data will be an important success factor in tackling the ESRS. By selecting a software, such as Position Green's ESG software, for your reporting efforts, you ensure the ability to gather all the necessary data, both qualitative and quantitative. You benefit from having everything you need in one place, and increase transparency and traceability. Collaboration becomes easier, which is crucial since the ESRS promotes gathering of data from multiple sources, both internal and external. 
Leverage historical data to understand your reporting journey
Reporting according to the ESRS can lead to different amounts of work depending on your organisation. The important part to remember is that no one is starting from scratch. Even though the ESRS are new, there are many synergies with standards and directives you might have reported in line with earlier, such as the GHG Protocol Corporate Standard or GRI. Therefore, it's essential to assess the data you have reported on previously to understand your current position. To understand your gaps, look at what you are currently doing and evaluate what you need to add to be compliant with the ESRS. Are there any low hanging fruit you can leverage to start crafting an action plan and a roadmap for your first ESRS report? 
Be sure to document your work
Documenting is key. Not only to make auditors' tasks easier, but also for yourself to create a good starting point for upcoming reporting years. For every aspect you deem material to your organisation, you need to provide details on targets, metrics and the plan going forward. Note that some disclosures require more rigorous documentation than others. Uploading proofs right where it's asked for in the disclosures will help to keep track of everything needed for the audits.
ESRS reporting is a team effort 
The ESRS is broadening the perspective of sustainability reporting, meaning that it's no longer just the sustainability team with support from HR that will collect the relevant data. By mindfully setting up an organisational structure for reporting and deciding who will be in charge of collecting and following up the data for the respective disclosures, the process will become much smoother. 
It's difficult to gather all the data and insights necessary from your value chain. One recommendation is starting a conversation with industry peers to receive insights on how they are tackling their supply chain data collection. It's encouraged to invite in your key stakeholders from the value chain to contribute to the data gathering as a way to decentralise the reporting process and encourage collaboration. 
Compiling your data in a sustainability statement
When you have finalised your collection of relevant data, it's time to compile it in a sustainability statement, which is to be included in a specific chapter of the management report. Make sure to structure it according to the guidelines presented in ESRS 1 and eventually upload it to European Single Access Point once it's done. The sustainability statement needs to be digitally tagged and prepared in machine and human readable format. It should be clear and concise and consider your different stakeholders and readers. It shall also be comparable to previous periods starting from the second reporting year.
Streamline your ESRS reporting with Position Green's software
Gather all your ESG reporting in one place with our easily accessible software solution. Leverage human expertise translated into features and built-in best practices to make sure you stay one step ahead.
Our custom ESRS software includes:

Double materiality assessment management

Assured disclosure templates

Sustainability statement in machine and human readable format
Learn more and book a demo to see the software in action here
Want to know how we can help you make ESG measurable and actionable, accelerating your sustainability agenda?
Please share your contact details and we will be in touch shortly.