Position Green named as Innovator in ESG & Sustainability Technology
Research and advisory firm Verdantix has listed Position Green in its annual Green Quadrant on ESG Software. Their report illustrates the scope and capabilities of our innovative ESG and sustainability offering.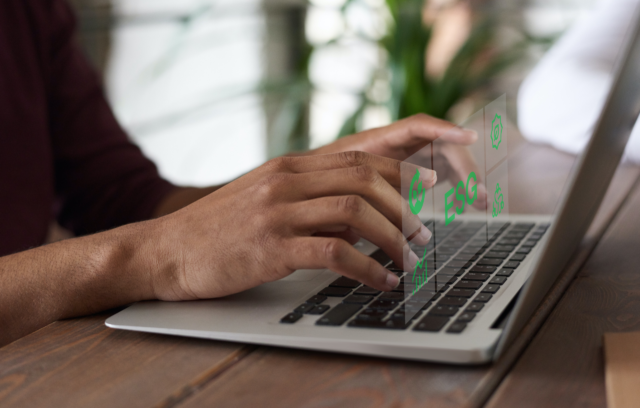 Growing demand for flexible ESG software
The analysis of independent research firm Verdantix has revealed strong growth in both customer demand and the number of vendor solutions within ESG reporting and data management software in the last three years. This demand has pushed vendors to meet a range of needs, which include collecting and managing large amounts of data, enabling reporting across a variety of regulatory and mandated frameworks, and helping corporates drive business decisions with tools like materiality assessments and benchmarking.
With the aim of helping companies compare the relative strengths of vendors across 15 capability and 11 market momentum categories, Verdantix has produced the 2023 Green Quadrant report.
Position Green is an Innovator in the Green Quadrant
As one of 20 market-leading sustainability software vendors in the ESG Reporting and Data Management segment, Position Green has received a strong score across a range of categories, with highlighted features including:
A dynamic and customisable organisational structure
The report gives a top score for the category and underlines how users are able to slice, tag and aggregate their data within different levels of the software's customisable dynamic tree structure. This allows them to determine which sites need to report on which metrics, easily make changes to their organisation tree and, if needed, compare metrics on a year-over-year basis.
Tailored solutions for regulated and mandated ESG frameworks
Position Green scored highly for its customised ESG Solutions for mandatory, regulated and voluntary ESG frameworks, in particular, how they enable customers to collect, visualise, analyse and report sustainability data in line with the requirements while capturing data-driven insights for decision making.
Sustainable investment software for efficient portfolio management
As a feature of our full-cycle investment software, the report emphasises how financial market participants can collect sustainability data from portfolio companies and measure the performance of their investments against mandatory Principal Adverse Impact (PAI) indicators to comply with SFDR requirements.
Strong in-house consulting to assist with more complex functionality
Position Green's integrated offering incorporates software and consulting expertise, advising customers on issues such as double materiality assessments, human rights saliency assessments, and climate risk and scenario analysis, which can then be incorporated into the software.
Continuous software improvements: It can be noted that the Verdantix analysis was carried out in the Spring of 2023. While the report includes a recommendation that Position Green "could improve by adding functionality to produce materiality assessments directly in the software platform", we have since developed such a software solution for ESRS Double Materiality Assessment, signaling our commitment to continuous innovation and improvement.
Get the Verdantix report delivered to your email inbox by signing up below.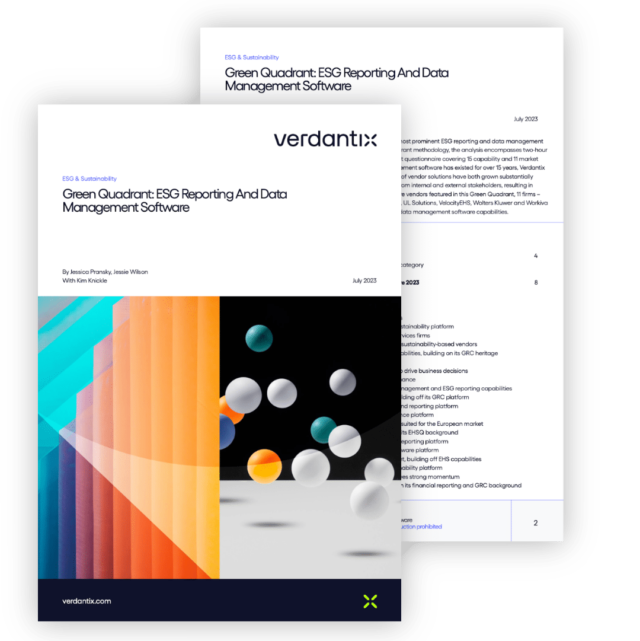 Download the report for:
A high-level benchmark of ESG software capabilities
The state of the ESG reporting and data management market
Insights into what makes a reliable partner for the future