Local Law 97 – Taking Steps
Towards Compliance
Real estate owners in New York City face compliance challenges with Local Law 97, the city's ambitious sustainability initiative and the first-of-its-kind GHG emissions cap for buildings. Learn how Position Green can help simplify reporting, mobilize your emissions data and build effective strategies for carbon reduction.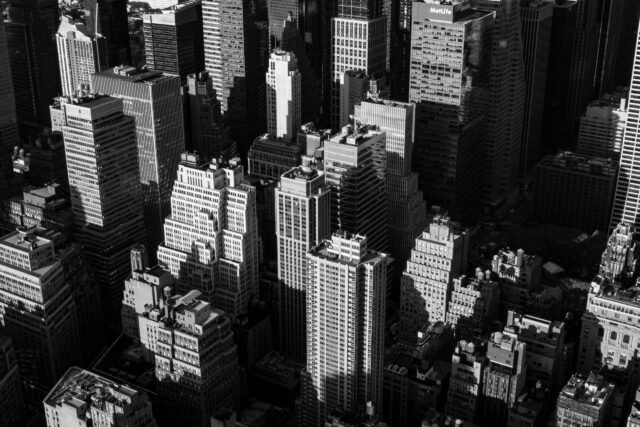 New York City cracks down on greenhouse gases
The City of New York is leading the way with the first carbon cap on commercial real estate in the USA. With new build permits on the line and hefty penalties for non-compliance and non-reporters, Local Law 97 (LL97) is not just an energy code, it is a total building emissions cap with the goal to get buildings carbon neutral by 2050. 
Who is affected by Local Law 97?
The law is encompassing, affecting both new and existing buildings which together account for two-thirds of NYC's annual carbon emissions. 
It requires buildings over 25,000 gross square feet, or two or more buildings on the same lot exceeding 50,000 sq ft combined (including condos and co-ops), to drastically reduce their collective greenhouse gas emissions by 40% in 2030 and reach a citywide reduction goal of 80% overall by 2050.
Local Law 97 rules will affect roughly 48,000 buildings starting in 2024. The buildings covered will be required to file a report with the Department of Buildings by 1 May 2025 detailing their annual greenhouse gas emissions, and then by 1 May of every following year.
Non-compliance comes at a cost
The city has set carbon cap and financial penalties for emissions over the determined emission thresholds at $268 per metric ton of CO2e starting in 2025.
Based on emissions data collected through Local Law 87, the City estimates that up to 25 percent of the subject buildings will exceed their 2024 emissions limits, while an estimated 80 percent of buildings will not comply with emission limits by 2030 if no action is taken. Furthermore, the rule may cap the use of renewable energy credits (RECs) to 30 percent of the total building electric emissions, meaning opt-out options will be limited. The properties will be subject to a penalty in 2025 if they fail to be proactive and ensure greater efficiency and compliance with set emission limits.
How can Position Green help?
Under Local Law 97, emission calculations and standards will be evolving each year. Measuring, managing and reporting emissions data under one investment-grade data platform will become a critical part of tackling compliance and maximizing the value of energy retrofits. A company can't manage what they can't measure.
Position Green offers:
Book a demo to see our Sustainability Reporting Software in action.
Share your contact details and we will be in touch shortly.