ESG100 insights: Preparing for ESRS compliance
The 2023 ESG100 analysis, published by Position Green on 8 September, presents an in-depth assessment of how prepared Scandinavian listed companies are for the European Sustainability Reporting Standards (ESRS), set to take effect in 2024.
Here we provide some useful insights from the ESG100, key takeaways from the study and advice on how to better prepare for the upcoming ESRS requirements.
Gauging readiness for ESRS regulations
Position Green conducts an annual analysis of the ESG reporting of the 100 largest listed companies in Norway, Sweden and Denmark (300 companies in total) to determine the degree to which they disclose valuable information for decision makers – both financial and non-financial. 
Marking the sixth edition, this year's ESG100 represents an industry first in its assessment of how well prepared listed companies are for the European Sustainability Reporting Standards, where each company receives a score from 'A+' to 'F' against ESRS disclosure requirements and other ESG reporting criteria.
Standards expected to apply in FY 2024
In July 2023, the European Commission formally adopted the ESRS which provides the disclosure requirements to implement the EU's Corporate Sustainability Reporting Directive (CSRD), a mandate that expands the number of reporting companies in the EU from 11,600 to 49,000.
Subject to final approval from the European Parliament and Council later this year, the success of the ESRS will soon fall to the in-scope companies for the reporting cycle beginning on 1 January 2024.
Bridging gaps to ESRS compliance
The 2023 ESG100 reveals significant gaps in company readiness for the ESRS, which suggests implementation challenges ahead.
On average, the 300 companies within the ESG100 reported 54% of the 68 ESRS disclosures that were tested for. Company size is deemed a factor in ESRS readiness, with the largest 50 companies by market capitalisation reporting 66% of disclosures and the smallest 50 reporting just 31%.
While most companies are prepared for mandatory greenhouse gas emissions reporting, 15% of companies are failing to report their Scope 1 emissions, 25% their Scope 2, and a considerable 31% are not reporting Scope 3.
The ESG100 also identifies significant non-compliance with mandatory Taxonomy reporting requirements, with 65% of the in-scope non-financial companies in Denmark and 19% in Sweden failing to report their 2022 taxonomy-eligible revenue.
Considering the extensive gaps identified in reporting of Scandinavian companies – often leaders in corporate sustainability standards – and the complexity of the ESRS, a high degree of initial non-compliance with the disclosure requirements can be expected.
Some key takeaways 
Companies must act quickly to assess and close their gaps to ESRS compliance. Performing robust materiality assessments is essential in this. 

This will require participation and buy-in from senior management, risk, operations, and legal, among other stakeholders, and the related time and resources. As the ESRS concepts are new, companies should upskill key staff to ensure sufficient expertise.

Investments will need to be made in an ESG data management system that ensures the accuracy and traceability of sustainability information required to meet assurance standards.

Companies should treat ESRS readiness not as a compliance burden but as an opportunity to develop sustainable business models that attract new business, investment and talent.
How can Position Green help?
Position Green provides a complete, end-to-end solution for ESRS compliance – from undertaking a double materiality assessment and gap analysis to streamlining data collection and reporting.
Purpose-built ESG software is infused with the knowledge of seasoned sustainability experts and strategists and is designed to seamlessly integrate with a company's existing systems. As a trusted partner, Position Green helps companies understand their impacts, risks and gaps to compliance, making sense of the regulations for their specific industry and business structure.
Sign up to receive the 2023 ESG100 report 
Key takeaways from the ESG100 report will inspire organisations to a more efficient use of ESG data for decision making, using insights to empower action for a sustainable, fair and resilient future.
 Register below to get the 2023 ESG100 report.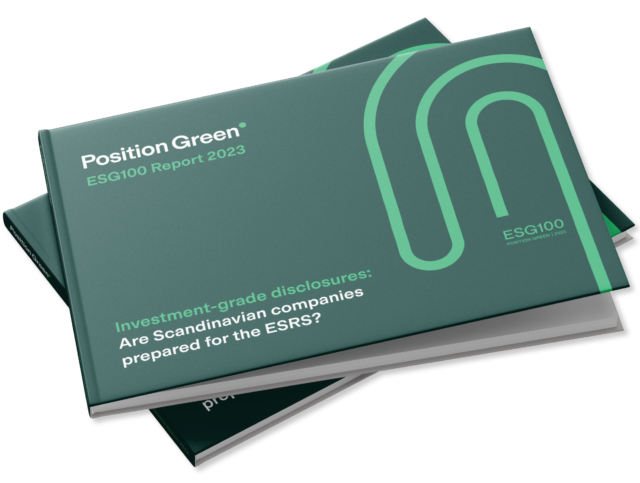 Want to know how we can help you get started with the ESRS?
Please share your contact details and we will be in touch shortly.