BRA – a merger placed demands
on a holistic approach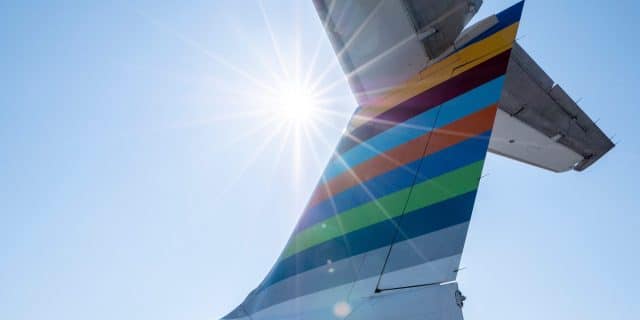 A merger placed demands on a holistic approach
The airline BRA was established after a merger between several carriers on the Scandinavian market. The need to use a common sustainability data tool became an immediate consequence of the merger. Data had previously been collected manually within each organization, mostly through the help of Excel spreadsheets. Following the merger BRA's management identified the need to take a more holistic approach to sustainability data in order to simplify their processes. They also identified a need to ensure that data corresponded to legal demands placed by the authorities could be stored securely in one place in order to provide auditors with traceable and accurate data. BRA was looking for a partner that could help them digitize and synchronize their sustainability work.
Data as a foundation to communication
Position Green was implemented shortly after the merger and today BRA uses the tool to collect, analyze and report sustainability data across all operational facilities. The data stored in Position Green Platform has turned out to be a valuable asset for the company's communication initiatives, allowing claims to be made on the correlation between e.g. fully booked flights and carbon dioxide emissions. Measures taken and progress made is materia-lized in Position Green and can hence be communicated both internally and externally. Access to continuously updated data also translates positively to their B2B customer relationships, who regularly (often on an ad hoc basis) require statistics on their aggregated travel.
Correlations between sustainability and profitability
Position Green illuminates BRA's sustainability efforts on a social, environmental and financial level by acting both as a tool and a catalyst for process improvements. The tool combined with the diligent, responsive and flexible approach from the Position Green team simplifies BRA's sustainability work beyond the reporting process. Without a dedicated tool for sustainability data BRA would have difficulty retaining clients that often demand statistics on company-specific emissions as part of their contract, as well as difficulty proving to authorities that BRA adheres to certification standards. Position Green creates transparency around BRA's sustainability progress and consequently establishes a direct connection between the statistics presented in Position Green and BRA's profitability.
Anna Soltorp and BRA as
Champions of sustainability
BRA is a Swedish airline company formed out of a merger between ten different carriers. BRA is the first airline in the world to offer all travellers the choice to add bio-fuels to their flight when booking a trip.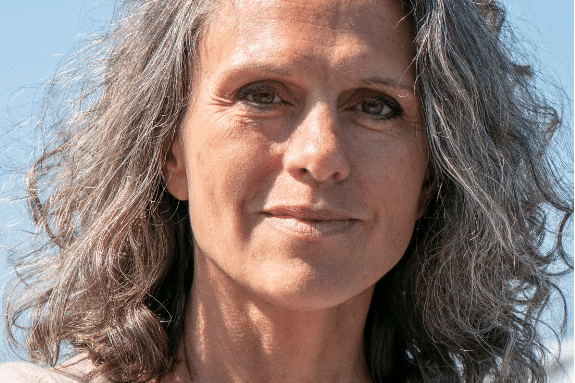 What is important for you when it comes to reaching your sustainability goals?
At BRA, 'integration' is a guiding theme for all our sustainability efforts, which implies that sustainability is integrated in all our processes. To achieve our corporate sustainability goals it is essential that every single employee recognizes his or her contribution in their everyday work routine. BRA is the first airline in Sweden to adhere to Fossil-free Sweden 2030 (Fossilfritt Sverige), and the first airline in the world to give its customers the option of purchasing biofuel when booking a flight. BRA's goal-oriented investment in fossil-free fuel is definitely something that instills pride among our employees. Parallel to our active stance on fossil-free fuel is our continuous effort to fly efficiently with fully-booked flights, and with the least possible fuel usage. Our customers expect that we work actively to reduce our negative climate impact. Our goal to become fossil-free by the year 2030 is ambitious but possible to achieve if we collaborate across industries and voice our demands for sustainable and locally sourced biofuel at an affordable price. BRA's goal is to cut its emissions by half per passenger between 2015 and 2025 through a combination of modern, light-weight planes and biofuel. We are investing in several initiatives that stimulate the demand for and contribute to research on the benefits of Nordic biofuel production. However, having politicians support our efforts in creating the right prerequisites for both biofuel research and investment opportunities is essential if we are to successfully carry out our own investments as a company.
Which role models inspire you in your everyday sustainability work?
It is important to be pragmatic and focus on issues that can make a tangible change. Sustainability easily turns into a fuzzy term unless you work according to a strict and goal-oriented framework within areas that you as an organization can have an impact on. Louise König (previously Sustainability Director at COOP Sweden) is a role-model in this sense, not least for her work against food waste. I'm inspired by Louise's capacity to balance a visionary and pragmatic outlook on how business interests and profitability can be aligned with sustainability. Another source of inspiration is AllBright Foundation and their CEO Amanda Lundeteg. Their research proves the important connection between equality, sustainability and profitability in business, which is also something that the human rights lawyer Parul Sharma successfully demonstrates in her studies on the negative links between sustainability risks such as corruption and inequality. Having more women in leading positions is as positive for a company's profitability as it is for their work within social, environmental and financial sustainability.
Do you have any advice, ideas or perspectives that you want to share with sustainability colleagues from other organizations?
Equal businesses are sustainable businesses! Make sure you have an equal number of women as men in key management positions, having a seat in Group Management and taking part in important decision-making forums.
Want to know how we can help you make ESG measurable and actionable, accelerating your sustainability agenda?
Please share your contact details and we will be in touch shortly.