APSIS – a fast journey towards 
net zero emissions
The digital marketing platform APSIS has embarked on an exciting journey aimed at reaching 0 tonnes of CO2 in net emissions by 2024. We sat down with Anna Torkelstam , project manager, responsible for purchasing, business development and process design at APSIS, to discuss the company's focus areas, how they work with data-driven measurement and follow-up in Position Green, and get to take part of Anna's tips for an efficient move towards zero net emissions.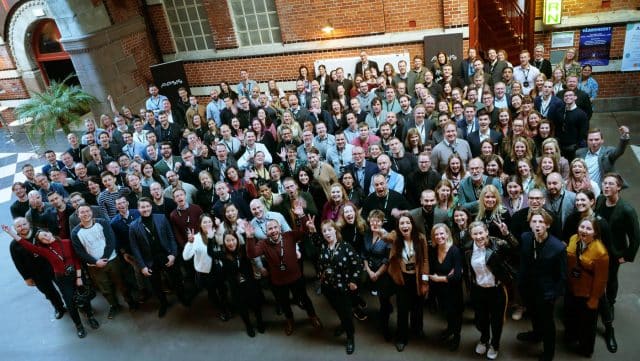 What is the basic idea of ​​your sustainability work?
"APSIS is a company full of employees who are privileged with good training in e.g. climate issues for a long time. As an effect, many of us want to find a way to both individually and as a group contribute to reversing the trend for us globally. This is our way, we dig where we stand and start from how APSIS as a company can and should get better."
How do you ensure that you achieve the goal of zero net emissions in 2024?
"We need to do a lot! And quite honestly, I do not think any of us see the whole picture of what it will really mean yet. The focus is primarily on our business trips (how much we travel and with which means of transport), our electricity supply (we have switched to electricity from only renewable sources in our offices), our food purchases and waste management (we have begun work on significantly improved waste sorting) and the sustainability work of our hosting providers. In addition, we look at how our employees can review their pension savings. When we are done with our data collection for 2019, we will with all the desired clarity see which areas we need to prioritise and make plans for how we address them to reduce our emissions. "
How do you use Position Green to achieve your sustainability goals?
"We use Position Green as a platform for all data management, at the same time as we use their Sustainability Advisor Paulina Björk's expertise to increase our knowledge. The combination of platform and advice makes it all fairly easy for us. We do not need to think about how to mathematically calculate the effect of e.g. a taxi ride, as the calculation is programmed in the platform. Paulina helps us understand how we should divide the work over time in terms of process: what can and should be measured, and – most importantly – how we should behave to reduce our emissions. "
Do you have any tips for other companies that want to make a similar move as APSIS?
Stop thinking about IF and WHY. Just do it.
If you do not happen to have both mathematicians and experts in environmental impact assessment in your staff, at least get help at the beginning of the work so that you can make sure that your work will not be unnecessary. Without knowledge of what is required to be able to claim that you have zero tonnes of CO₂ in net emissions, there is a risk that you will deal with the wrong things, in the wrong order and above all calculate input values ​​and reductions in the completely wrong way.
Dare to make uncomfortable decisions. Speak openly and transparently that there are no given answers to a large part of all questions. This is new terrain for almost everyone, we need to dare to test and evaluate without result.
Want to know how we can help you make ESG measurable and actionable, accelerating your sustainability agenda?
Please share your contact details and we will be in touch shortly.